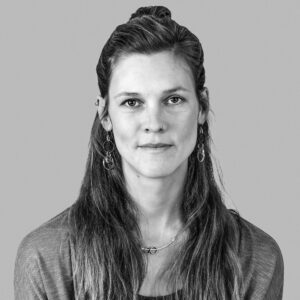 Veronika
ROOTS: Zweden
Het idee: een jaar op reis gaan.
Maar ik woon inmiddels al dertien jaar niet meer in Zweden.
Ik leer mijn man kennen tijdens het backpacken in Australië.
Samen vertrekken we naar zijn land, Israël, waar later ook onze dochter geboren wordt.
Als ze één jaar oud is, pakken we er een landkaart bij.
We zoeken naar een plek waar je met Engels goed terecht kan, waar goede scholen te vinden zijn en een huis.
Het wordt Nederland, Amsterdam, in eerste instantie.
Het is moeilijk settelen.
Geen vrienden, geen familie.
Het voelt te tijdelijk.
Tot we een huis vinden in Almere.
De mensen lijken er anders.
Vriendelijker, meer open.
Of misschien heb ik nu wel het geluk om dat soort mensen tegen te komen.
Een community vinden, contact leggen met hen met wie je op één lijn ligt, verbinding maken met de mensen om je heen: het helpt je om je ergens thuis te voelen.
Maar je moet wel jezelf durven laten zien en van je laten horen.
Dan leer je elkaar uiteindelijk steeds beter kennen en begrijp je elkaar sneller, ook als er culturele verschillen zijn.
"Connecting with those around you – it all helps to make you feel more at home"
ROOTS: Sweden
The idea was, travel around for a year, but I have now lived away from Sweden for thirteen years.
I met my husband backpacking in Australia.
We travelled to his country, Israel, where our daughter was born.
When she was one year old, we grabbed a map of the world.
We looked for a spot where you'd be okay with speaking English, that has good schools and where we'd find a house.
That was the Netherlands – Amsterdam to start with.
Settling down is hard.
No friends, no family.
It all felt too temporary.
Then we found a house in Almere.
It's like, the people are different here.
Friendlier, more open.
Perhaps it's just that I'm now luckier and meet that type of person more.
Finding your community, meeting the kind of people you are on a par with, connecting with those around you – it all helps to make you feel more at home.
You do have to dare to be seen and heard, though.
Eventually, you get to know one another better and understand each other quicker, even with those cultural differences around.