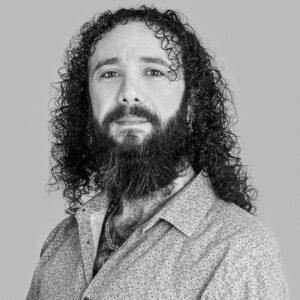 Tony
ROOTS: Syrië
Of Almere prettig is?
Nee. Almere is méér dan prettig.
Almere is het bloemetje van Nederland.
Zij verdient het om het groene Almere te zijn.
Ik voel dat mijn wortels hier zijn.
Maar ik moet een deel van mijn roots achterlaten.
Anders kan ik niet volledig integreren.
In Syrië werd ik opgevoed met haat.
Tegen het westen. Tegen Israël.
Dat werd ons met de paplepel ingegeven.
Elke ochtend ging de nationale vlag omhoog.
"Dood aan Amerika! Dood aan Israël!", moesten we schreeuwen.
Hier in Almere besef ik dat we allemaal mens zijn.
Mijn beste vriend is Joods en Israëliër.
God is niet Christelijk, Islamitisch, Joods of wat ook…
God is liefde.
"Here in Almere, I realise that fact that we are all just human beings"
ROOTS: Syria
Almere a nice place to live?
No, it's much more than that.
Almere is the Netherlands in bloom.
Almere really earned the name Green Almere.
I feel that my roots are here now.
I needed to leave some of my roots behind though.
I won't be able to fully integrate otherwise.
I was raised full of hate in Syria.
Hate for the west. Hate for Israel.
We were force-fed hate from a very young age.
The flag of Syria would be raised every morning.
We were taught to yell 'Death to America!' 'Death to Israel!'.
Here in Almere, I realised that fact that we are all just human beings.
My best friend is Jewish, an Israeli.
God is not Christian, Islamic, Jewish or anything like that…
God is love.