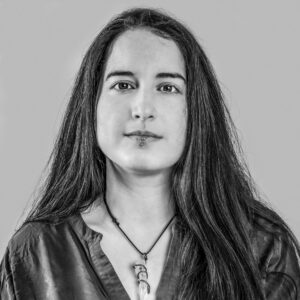 Eva
ROOTS: Spanje
Ik groei op in Barcelona, tussen drukte, geluid en verkeer.
Uit noodzaak kom ik hier terecht.
Ik vertrek met mijn vriend naar Dronten, maar ik kan er niet aarden.
Dus gaan we onze vrienden achterna die in Almere wonen.
Het is groen, natuurrijk en rustig, en er gebeurt daarnaast genoeg.
Ik leer de taal kennen.
Ik leer beter fietsen.
Ik leer de dingen te doen op de Nederlandse tijd.
Ik ben hier comfortabel, maar er is ook heimwee.
Naar de plek, het weer, het eten.
Naar met mensen zijn met dezelfde cultuur en dezelfde taal.
Mijn 'Spaans zijn' is een opgelegd onderdeel van mijn identiteit hier en daar niet.
En hoewel er goed en wederzijds begrip is, zal ik altijd een barrière voelen tussen mij en andere Almeerders, hoe klein die ook moge zijn.
In het groen van de stad voel ik me het meeste thuis.
Ik heb me altijd al verwonderd over de natuur, die in Barcelona weinig te vinden is.
Hoe de natuur onderdeel uitmaakt van deze stad wens ik elke plek toe.
"My being Spanish is imposed upon me here as part of my identity. There, it is not"
ROOTS: Spain
I grew up in Barcelona – busy, noisy with lots of traffic.
I had to come here really as I came with my boyfriend, to Dronten.
I really couldn't settle there.
We then followed our friends who live in Almere.
It's so green here, full of nature, peaceful, but still with lots going on.
I'm learning the language.
I'm learning to ride a bicycle (better).
I'm learning about doing things the Dutch way, punctually.
I'm comfortable here, sure, but I am also homesick.
For Barcelona, for the weather, for the food.
For being among people with the same ideals, and the same language.
My being Spanish is imposed upon me here as part of my identity.
There, it is not.
While there is good, reciprocal even, understanding, I think I'll always feel that barrier between me and other Almerans, however small.
I feel most at home in a park or in the woods here in Almere.
I've always been an admirer of all things 'nature', that is hard to find in Barcelona.
The way greenery is integral to this city, I could wish on every other town around.