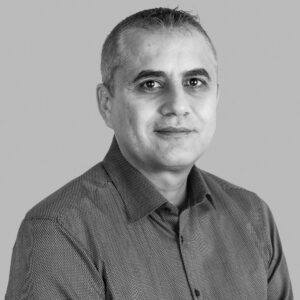 Jalil
ROOTS: Irak
Ik woonde in Irak tot 1994.
Daar zijn de verschillen in de samenleving belachelijk groot.
Er wonen extreem rijke mensen, met speciale macht.
En er wonen zeer arme mensen die niet rond kunnen komen voor hun primaire behoeftes.
Er is een gedwongen hiërarchie vanwege een politiek systeem en de cultuur daaromheen.
Vanaf de tweede helft van mijn leven besloot ik mijn land te verlaten.
Ik ben er vrijwilliger geweest bij het Rode Kruis.
De overtuiging dat je dat echt voor een ander doet, staat me het meeste bij.
Vooral bij de Nederlandse collega's.
Dat zijn vechters.
Zo zag ik ze.
Ik geniet van het leven hier in Nederland.
Elk moment.
Van de vrijheid. Die voel ik bewust.
Ik ben anders gewend namelijk. En dus ben ik dankbaar.
Ook als iets vervelend is, zit er ergens iets goeds in verstopt.
Daar geloof ik heilig in.
Als je daar maar naar blijft zoeken.
Naar dat licht in de verte, hoe klein ook.
Als kind tekende ik vroeger veel.
De figuren die ik maakte zagen eruit als huisjes zoals in Nederland.
Twee verdiepingen, een puntdak…
En daarnaast tekende ik altijd een dadelboom.
Nu kan ik zelf zo'n huis in Almere bouwen.
Met twee verdiepingen en een puntdak…
En wie weet kan er een dadelboom overleven!
"Even when things are frustrating, there is something good hidden in there too"
ROOTS: Iraq
Up until 1994, I lived in Iraq.
Societal differences there are ridiculously huge.
There are some extremely rich people there, granted special powers.
There are also very poor people there, who can barely survive and miss many basic needs.
A forced hierarchy reigns, due to the political system and the surrounding culture.
When I became an adult, I decided to depart from my country.
I was a Red Cross volunteer.
That conviction of really helping others has always stayed with me.
I learned that especially from Dutch workmates.
Those were real fighters. That's how they seemed to me.
I really enjoy life in the Netherlands.
Every single moment.
I love the freedom. I'm very conscious of that.
I'm of course more used to it being not quite so free, so I'm very grateful for it.
Even when things are frustrating, there is something good hidden in there too.
I really do believe that.
You just have to keep looking for it.
Keep looking for that light at the end of the tunnel, however small it is.
When I was a child, I drew a lot.
I drew little houses, just like the ones you get here.
Two storeys, a pointed roof…
And right beside that, I always drew a date palm.
Now I can build just such a house for myself, here in Almere.
Two storeys, a pointed roof…
And who knows, perhaps a date palm would survive!