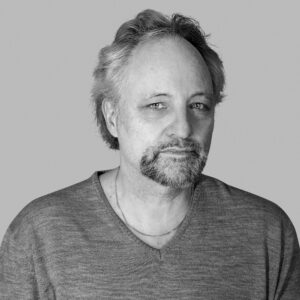 François
ROOTS: Zwitserland
Ik vond Nederland altijd een progressief land.
Daar werden dingen anders opgelost.
Denken in nieuwe oplossingen.
Dat werkt ietwat anders in Zwitserland.
Zo ben ik eens mijn baan verloren.
Ik kon toen voor een veilig alternatief kiezen.
In een nieuwe baan duiken die ik al kende.
Iets zoals mijn vorige baan was.
Maar een vriend zei me dat ik ook voor iets nieuws kon gaan.
Deze kans benutten voor een uitdaging.
Daar ben ik uiteindelijk voor gegaan.
Ik dook in een nieuwe opleiding.
Een keuze die niet veel Zwitserse mensen zouden maken.
Hier in Nederland lijkt dat veel gebruikelijker.
Ik wilde er als kind ook altijd naartoe op vakantie.
Veel gebruiken hier lijken op de Zwitserse.
Respect voor ouderen, elkaar groeten, de vriendelijkheid.
Dat doet me goed.
En iedereen is ietwat nieuw hier in Almere.
Dat maakt iedereen ergens gelijk aan elkaar.
Daarin is taal een belangrijke speler.
Om echt te verbinden met elkaar of met een plek.
Taal is de sleutel voor het aangaan van contact.
In de breedste zin van het woord.
"Language is key for making any type of contact"
ROOTS: Swiss
I've always thought of the Netherlands as a progressive country.
Things were solved differently here.
They thought up new solutions to things.
This is different to how it goes in Switzerland.
At one point here, I lost my job.
I was then able to choose a safe alternative.
Into a new position, similar to what I knew.
Very like my previous job.
Then a friend told me, I could look for something entirely new if I wanted to.
I should take the chance and go for a new challenge.
Eventually, that's exactly what I did.
I immersed myself in a new field of study.
Not a choice that many Swiss people would or could make.
It's almost normal here in the Netherlands to do so.
I always fancied coming here on holiday, as a kid.
It's similar in many ways to Switzerland, with many of the same customs.
We too respect our elders, greet each other in passing – that friendliness.
I like that a lot.And you know, everyone is sort of new here in Almere.
It makes everyone somewhat more equal, I think.
The language plays an important role.
In really getting to know each other, or in getting to know a certain spot.
Language is key for making any type of contact.
In the widest sense possible.