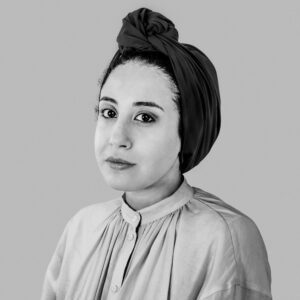 Fatma
ROOTS: Egypte
In Egypte is het, niet alleen in temperatuur, erg warm.
Het zit ook vooral in hoe mensen er met elkaar omgaan.
Gemoedelijk, sociaal, zorg dragen voor een ander.
Als ik nu in Egypte kom, voel ik me in veel opzichten heel Nederlands.
Zo realiseerde ik me daar ineens hoe direct ik kan zijn.
Ze zijn er een stuk beleefder.
En gaan misschien over hun eigen grenzen om zo een ander te kunnen helpen.
Er is meer saamhorigheidsgevoel.
In Nederland is iedereen veel meer op zichzelf.
Gelukkig heb ik op heel gekke momenten ook de warmhartigheid van Almere leren kennen.
Bijvoorbeeld tijdens mijn bruiloft.
Mijn man en ik waren op het strand van Almere voor een fotoshoot.
Ik in mijn trouwjurk, hij in zijn pak.
Toen het keihard begon te regenen…Er kwam een man aangereden en gaf ons een paraplu.
"Gefeliciteerd!", zei hij.
Vervolgens reed hij door.
De hele dag door werden we aangesproken en ontvingen we felicitaties.
Die vriendelijkheid was ik niet gewend.
Alle zaken die ik fijn vind in zowel de Egyptische als de Nederlandse cultuur, neem ik mee.
Zo maak ik als mens een combinatie van culturen.
Zo kies ik 'the best of both worlds'.
"I'm suddenly very aware of how direct I can be"
ROOTS: Egypt
Things in Egypt are hot, and not just in temperature but in temperament.
The way people there interact is 'warm'.
Friendly, good-natured, social, caring about others.
When I'm in Egypt now, I feel very Dutch in many ways.
I'm suddenly very aware of how direct I can be.
People are much more polite in Egypt.
They're even likely to go out of their way to help another person.
There is more solidarity there.
Everyone is more out for themself in the Netherlands.
Luckily, at the oddest of times, I have become acquainted with Almere's warm-heartedness too.
At my own wedding for example.
My husband and I were on a beach here, doing a photoshoot for the wedding.
I had on my wedding dress, he was all suited up.
It started to absolutely chuck it down…
A man ran up to us and handed us an umbrella.
"Congratulations", he said.
Then he just carried on his way.
We were approached and congratulated again and again, the whole day.
I wasn't really used to that kind of friendliness here.
Everything I like about both Egyptian and Dutch culture, I carry with me.
That's personally how I combine the cultures.
I choose the 'best of both worlds'.