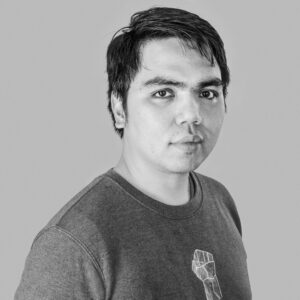 Darrel
ROOTS: Filipijnen
Op de Filipijnen zijn er de drukte en de vele prikkels.
Een chaotische, gezellige sfeer.
Mensen zijn er warm, net als de zon.
Er wordt gefeest, gezongen, gedanst.
Maar soms aarzel ik me te gedragen hoe ik wil.
Ik ben er kinderboekenschrijver.
In de grote stad wordt er wel gelezen, maar op het platteland vind je geen boeken.
Het is mijn passie om elk kind te kunnen laten lezen.
Mijn hele familie woont daar, maar het is normaal om ver van huis te zijn.
Ook voor mijn vader, een zeeman, en mijn moeder, een verpleegkundige.
Het voelt logisch om me te verplaatsen.
Voor mijn studie kom ik in meerdere landen terecht.
In Nederland vind ik de liefde, in Almere de kalmte en rust.
Een gemoedelijke sfeer.
Ik ontmoet nieuwe mensen en vrienden.
Lach samen. Ik doe een drankje in het taalcafé.
Ik ontdek de stad.
Word directer.
Heb geen aarzeling meer.
Kan hand in hand lopen met mijn vriend.
Dit is de plek waar ik kan zijn wie ik ben.
"It's here that I truly get to be who I really am"
ROOTS: Philippines
It's very busy with so much to stimulate you, in the Philippines.
It's a chaotic, but convivial atmosphere.
The people are warm… like the sun.
Parties, singing and dancing everywhere.
Sometimes though, I do rather hold back from acting how I want to be.
I'm a writer of children's books.
People do read in the big cities, but in the Philippine countryside, not so much.
I am very passionate about every child being able to read.
My whole family still lives there, but it's normal for us to live very far from home.
Even for my father, who is a sailor, and my mother, a midwife.
It feels logical to me, that I would live elsewhere too.
To get my degree, I have lived in several different countries.
I found love in the Netherlands.
I found peace and quiet in Almere.
People here are friendly and good-natured.
I meet new people and make friends.
We meet up and laugh and drink together in the Language Cafe.
I explore the city.
I'm becoming more direct.
I don't hold back like I used to.
I walk hand in hand with my boyfriend here.
It's here that I truly get to be who I really am.