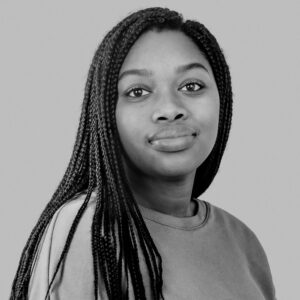 Britney
ROOTS: Jamaica
Elke keer als ik terugkeer naar Jamaica, voelt dat als thuiskomen.
De geur, de warmte, de palmbomen…
Dat geeft me een thuisgevoel.
Maar als ik dan weer in Nederland kom, overkomt me datzelfde gevoel.
De hoge gebouwen, vlakke landschappen, mijn Nederlandse vrienden…
Dat geeft me net zo'n thuisgevoel!
Toch zijn er behoorlijke verschillen in beide culturen.
Zo is het in Jamaica heel gewoon dat je met je hele familie in één huis woont.
Ik groeide op in hetzelfde huis als mijn neefje, oom, tante, opa en oma.
Hier in Nederland spreek je al van geluk als jouw opa en oma in dezelfde stad als jij wonen.
Laat staan dezelfde provincie!
In Jamaica voel ik dat er meer aandacht voor familie is.
Letterlijk en figuurlijk.
Dat voelt warm.
Hier in Nederland kan ik dan weer wat losser zijn.
Kan ik eerder en vaker mijn eigen mening geven.
Zo vind ik in beide culturen een stukje van mezelf terug.
Thuiskomen doe ik in Jamaica én Nederland!
"That's how I can find a little bit of me in both cultures"
ROOTS: Jamaica
Every time I return to Jamaica, it's like coming home.
The smells, the heat, the palm trees…
It just gives me a feeling of 'home'.
Then, when I return to the Netherlands, I get exactly the same feeling.
The skyscrapers, the flat landscape, Dutch friends…
That too gives me that feeling of 'home'!
Yet, there are pretty big differences between the two cultures.
For instance, it's perfectly normal in Jamaica to live in one house with the entire family.
I grew up in the same house as my cousin, uncle, aunt and grandparents.
Here in the Netherlands, you're lucky if your grandparents even live in the same town as you.
Let alone the same province!
I have the feeling that there is more attention paid to family in Jamaica.
Literally speaking and figuratively. It's cosy that way.
Here in the Netherlands, I'm more… free, though.
I can sooner, and often do, state my own opinions.
That's how I can find a little bit of me in both cultures.
I come home to either Jamaica or the Netherlands.